---
News
May 3, 2012
Category: General
Posted by: admin
It Snows Proper Here
May 1, 2012
Category: General
Posted by: admin
thanks to lisa, ,paul and percy , without there helpl i wouldnt have a home, never mind a garden railway
percy, you realy are a mate
Home (Of Lazy Grange Bay III)
Welcome to the all new Lazy Grange Bay III web site.
It defitaly wasn't planed.. new year, 2 years ago, the "wife" said i want a divorsce...
Well, after finding some where to live, (massive thanks to Lisa/Paul, for putting me in touch with Greenvale)
I found my self, in a bungalow, in a village, in the country side.. after googleing it, and seeing it on google street view, i had to have it, I was extremely lucky ,I got the bungalow.. so now i had a new home.. and it came  with a large, overgrown garden, the last tenant, a lovely 90 year old lady, hadn't been out in 10 years, she was blind, and has since moved on to a nursing home. I asked my new land lord, if i could re model the garden.. and was politely told, GO FOR IT.......apparently, it helps me become a good tenant, buy looking after/improving the gardens.. the 1st year, i purposely, didn't start the railway, ..I concentrated on doing the front garden, and the side garden, and a new large shed.. my reason, if I started on the railway ,id never get anything else done..
The front garden, like the rest, was massively over grown.. 1st up, clear the site.. Lisa & Paul, leant mea garden shredder... so.. after i had cleared it, i fitted a weed membrane, and built two large planters.. and added a few tons off slate.. a nice, easy to maintain, garden.. next up, the side.. next door asked if i would trim the two massive liandia trees.. trim, er, ok.. so they got shredded.. and with help from alec, who gave me a cement mixer, and ian .s who helped with the decking, area.. a new seating area was built.. next, i built a rised stone wall around the nice small tree.. and in filled it with 3 tons off soil.. and layied a new path to the shed.. which i bought locally, from a joinery shop, well worth the money. I also fitted a new clothes thingy... and separated it, by design, with slate, from the new gravel path... winter came.. and everything, stopped.. so i got stuck into re decorating the pink bungalow. yes, pink,, the old dear was blind, so, everything was pink.. after countless coats off magnolia.. I think i ve got rid off all the pink.. new furniture was ordered, nice display units for me trains..
Spring, i had a message from a very good freind, simon.. are u in tomorrow? got you a delivery.. a wagon duly arrived, and delivered 18 sheets off marine ply wood, 6inc fensce posts, and a few hundred feet off tanalised timber.. so.. next was to fit out, the shead, i had bought, a 10-8. i racked it out, with 2inc tanlised planed timber, fitted electrics, lights, ect, metal grill across the windows, and a roller blind inside.. a high securty door bar, along with hefty padlocks.. you get the idea.. thre new home off the fleet storage facility was takeing shape.. after i had got it done, i started on the land clearansce, across the back.. i ended up with a 75 ft long strip..i fitted a weed membrain, and cemented it into place.. next, i drew out, in scale, in my shead, the layout, as i envised it.. 1inch,=1ft...so now i had a plan..
I bought a load off concrete foundation blocks, ibroke them in 1/2.. i then cemented each 1/2 ,in a grid patten, in the ground, flat/level, it dosnt matter that they are all differnt hights, as i intend to make the railway legs to suit, each block.. it make sense, trust me, im a qulified idiot..
So we end up with 6 blocks, per sheet off marine ply.. 8ft long, 4ft wide.. 2-2-2 blocks..next, i used the 2inch tanlised timber, to make a frame work, to surport the marinen ply.. all aroundthe edge, and across the middle
Each leg down to the concrete block is different, but its not hard, it rather easy ,measure twice, cut onesce, after the 1st 3 "Tables" were made, it all started to come together
People often ask, how, why.. well, I  truly believe, if you are brutally honest with your self, in regard to what YOU want, not what you think your mates want. ..you will end up with a garden railway that works for you..
I like to watch trains going round.. while i do other things, be it a bit off modeling, in my shed, or sitting out side, on the decking, with mates, chatting, ect.. I believe, that the setting/scenery is as important, as the track, ive seen loads off garden railways, were its a lot off track, squashed in to the garden. for me, less, is more
I want to be able to operate  the railway, i want big enough passing loops, for 5 coaches, i want a nice country station(thanks to ian.sharples, ihave a award winning station),with gas lamps, two platforms.. i want a coal yard just past the station..blelow the station, is the village.. i want a 50s/60s feel to it, kind off like hartbeat(tv serise)..a pub(ians busy building it) a row off shops, a school, and ghouses, a garage..ALL these are from the delightful range from PEndelbury Model Buildings,..a very nice bloke, a good friend, allan owns it
http://www.pendleburymodels.com/
The church on the hill.. (GEt it? churchhill?  groan) is a pendelbury model, as is the lovely stone walling used.
The road winds down to the village off lazy. through the village, past the market, and war memorial, pass the beautiful hand made(thanks to bob.P in Canada!!) art deco bus stop(he also made the beautifull church gates)
Under the railway... it carrys on out off the village, past the school, out into the country side..
Now  if you can imagine it, you can build it.. well that's how I do it, I have to be able to imagine how it will look, before i start  to build it..dont focus on small details, just the idea, image off the village.. the details come after...
So, after agreeing a prices with allan, i bought, a small village.. during the winter months, i learnt how to make resin buildings.. superglue, milliput, AND  hotglue.. i decided to build in setsa off 3.. ie, 3 houses, or 2 shops, and 1 house.. i purposely, built in internal walls, and floors.. i wanted the interiors light up, but not the entire row.. front room down stairs, but not up stairs, shop front light up, but not the backs, you get the idea.. lighting is via 3mm leds runnig at 12 volts.. i made dummy shop interiors, with goods ect.. ialso wanted pavements, so each set off buildings is sat in its own pavements.. around the backs, they have backyards, ...
I used plastic sheets i aquired, from everything for signs.. owned by a good freind, sandy, and harriet.. they kindly gave me oft cuts off sign makeing bords, its ideal for me, its FREE!!, its easy to cut(foambord) easy to scribe, (makeing the pavemnents, viaduct walling)and easy to paint..so each set, matches it houses.. they will also have gas lamps on the pavements.. nice to do inside, all winter.. i hope to be able to insatall them soon..
and i have, the installation was made easy due to a bit off thought, each building was possitoned in place, carefully marked out, then a hole cut into the wooden base, a 12 volt surplly was secured inside the buliding foot print, (a chocholat block conecter was screwed down, ) the pavement was fixed in placed ,the gas lamps added, and wired into the 12 volt surplly.. and checked, to make sure they worked,before the building, its self, was installed.. the building is held in places by ,the pavement, and, 4 -5inch screws, 1 at each internal corner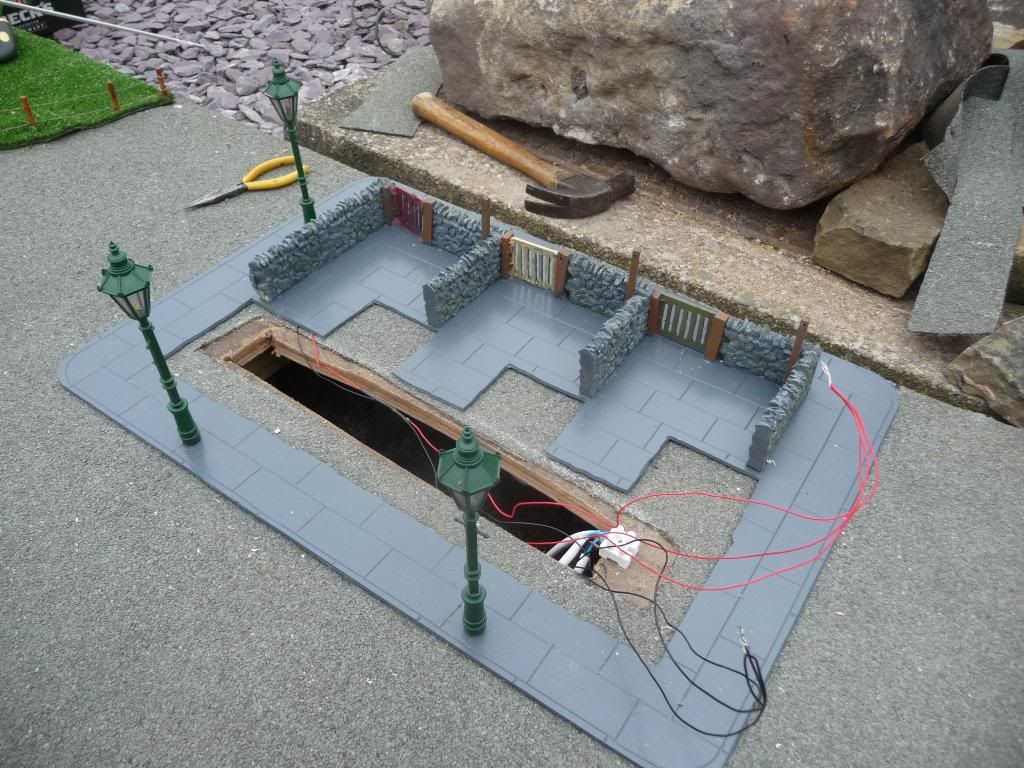 after a intial test. the rest when in stright away, progress was quick, and soon the village took on its own life, 
bob.s bus shelter, was set in to the pavement, so it looks correct, and a phone boxs installed, both are easyly removed, and the hole in the pavement, "plugged" with the original cut out.. the market has been set out, individual cut cobbles were scribed into the plastic sheet, to re create the correct look, i was after, the bolards, are made from ballpoint pens.. painted and installed, the war merorial is now in place.. and to finish it off, the new bridge face installed.. LGB 2010..fitting, i thought,.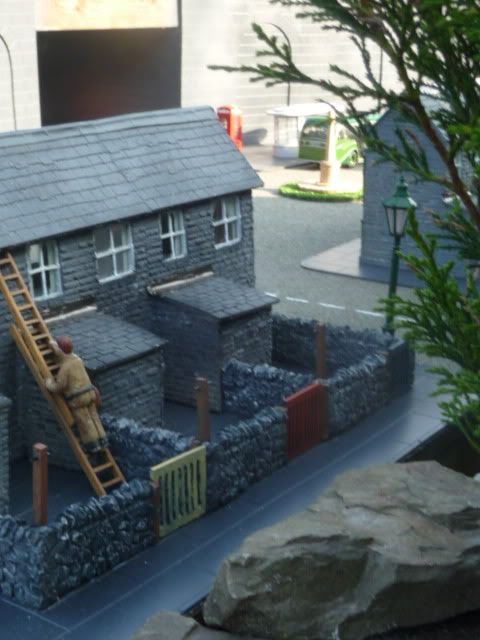 some more progress  was made ,a re furbished colour light signal,up graded from a none working single led, to a 3 aspect one, in its own retaing wall section was made, while this was beening sorted i upgraded the signal boxs, it got a repaint, new roof, and its own retaining wall, all made form scrap plastic, and superglue..which is also great for stoping blood leaking out off the cuts on my fingers..
 here it is installed..
  this help boost my confidansces to have a go at the goods yard...
heres the latest on the goods yard
 amazing how 1 thing, leads to another, and inspires me to do more..new station platforms have been made,and installed, i used UPVC sofit bords.......
 balsting and trains.. 
 http://www.youtube.com/watch?v=tD4Esh1Npis&feature=g-all-lik
time moves on, and i have made some more slow progress , the  new subways are now installed ,
they have steps down, and can be linked across. fully detailed, with brick work, and brass surport bars
they are sandwiched into the platforms, but can be removed if need..for maintansces ect ..
i also am feeling quite proud off the line now, its just been featured in this months (issue219)
nov2012 Garden RAIL MAG, as Feature Railway Of the Month, a full 8 page spred ..one off the largest 
coverages off a line, in a longtime, acording to Tag ,the ediotur..just finished off a nother artical for him 
the gents toilet block for the station platform, its as usale, scratch built, useing foam bord
been asked to bea colomist in garden rail.. after a bit of a brew and A PONDER.. 
Started on fannys fish ..village chippy.. it will be in a run off 3 buildings.. 
 on the 11th hour off the 11th day of the 11th month..
lest we forget..
Lazy Grange Bay Remembers..
Have a look at the Gallery for more pictures of Lazy Grange Bay I/II & III